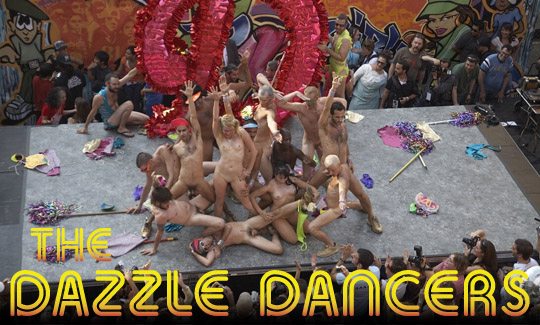 Press Coverage
Metro
"Razzle Dazzle Opposing Coney Island Condos"
(Bejeweled Signs, March 15, 2007)
NY Post
"It was a freak show at City Hall yesterday..."
(Coney Island Carnies Barking, March 15, 2007)
Penthouse
"...they all look pretty damn amazing in their pasties and sparkles."
(10 Lords A-Leaping, December, 2006)
Art Forum
(Deitch Projects Art Parade September 9th, 2006)
New York Magazine
"...Who's who and what's what of downtown's wild, original and very New York theater scene"
(The Show Goes Downtown, May 5, 2003)
Elle
"Solid Gold meets the Torrance Community Dance Group"
Ocean Drive
"Dazzle Dancers put on a series of wacky production numbers, ... a scenario right out of another Spanish director, Bu˝uel, and one that made perfect sense since I felt like my feet were still at the Copa anyway."
(January 2003)
Village Voice
"...the Dazzle Dancers, a variety show-style troupe that wore nothing but body glitter and clusters of grapes for a hilariously coordinated flashlight dance in the dark"
(See Village Voice Blackout 2003 nightlife coverage and Club Crawl mention)
New York Blade
"But it was a second performance by the Dazzle Dancers, ending with all the dancers in the nude that led Hill to proclaim 'New York is back, folks."
(October 12, 2001)
Stuff
"It takes a lot of guts to look this stupid and pretend your life is meaningful!"
(December 2001)
Paper
"supremely scintillating"
(February 2002)
"one of the hottest acts on New York's Gay nightlife scene"
(August 1-8 2002)
"The avant-gay dance troupe known as the Dazzle Dancers come from some odd pixie-glitter realm between modern dance and performance art. They are a little bit Mummenschanz, a little bit, La Cage Aux Folles and a lot Oh Calcutta!" Full text of article.
(Best of Manhattan/ September 25 - October 1, 2002)
HX
"inspire sexy freedom and liberating fun through glitter, nudity and semi-retarded dance moves"
"Their group's obvious joy and unpretentious message to embrace life-not to mention the fact that the Dazzlers come in all different shapes and sizes, a reassuring sign in a city of homogenized, sculpted bodies-frequently prove to be so infectious that people literally can't get enough of them."
(April 11, 2003)
Next Magazine
"…we all descended on the Slide and carried on with my Thursday party Tigerbeat—but that night it was TigerMeat—cause everone got naked!"
(Daniel Nardicio on Blackout 2003)
Gay City News
"Who knew anti-war protests could be glamorous?"
(Adding Glamour to Protest, March 28 - April 3, 2003)
Blog Mentions
Hedda Lettuce
"Seen covering her eyes was Debbie Harry. We are not sure if it was because the Dazzle Dancers hairy backs and asses offended her or that the flashes of the paparazzi's cameras bothered her."
"I really truly hope to god that these Dazzle Dancers don't come to MY city. They scare the bajesus out of me, really."
SnarkeyMalarkey.com
"Finally, something worse than mimes: the Dazzle Dancers!"
Cootie Girl
"a show better than the rockets" (more from Cootie Girl)
Home | Manifesto| Biographies | Photos | Videos | Links | MySpace | Press | Book Us | Upcoming Gigs | Contact